Coronavirus News and Information
KEY RESOURCES
SOCIAL MEDIA ACCOUNTS - Up to date information from State and County Leaders
We encourage everyone to follow the recommendations of the CDC and Governor Hogan; it's up to all of us to do our part.
If you are not already signed up to receive emails from the Town Office via GPML or Town website e-notifications, please contact the Town Office at 301-933-7488 or support@garrettparkmd.gov to sign up.
---
ALL UPDATES
THURSDAY, MAY 28, 2020
On Wednesday, May 27, Governor Hogan issued an order that allows for additional activities to resume, but not all of the Governor's order applies in Montgomery County. The County is able to apply more restrictions to reflect local conditions. On Thursday, May 28, County leadership announced critical benchmarks to reduce the spread of COVID-19 have been achieved, allowing the County to begin a gradual reopening. Phase I will start Monday, June 1 at 6 a.m. The County plans for an incremental reopening, based on public health data. Read the full Press Release here, and highlights are below:
THURSDAY, MAY 21, 2020
TUESDAY, MAY 19, 2020
County Executive Signs Continuing Stay at Home Order (May 15, 2020) – The order will stay in effect until five key metrics are met: 1) A sustained decrease during a 14-day period of new cases in an environment of increased testing; 2) A sustained decrease in the COVID-19 related hospitalization rate; 3) A sustained decrease in the percentage of COVID-19 related ICU beds in use; 4) A sustained decrease in the number of COVID-19 related daily deaths; and 5) A sustained decrease in the number of COVID-19 related patients going to County emergency rooms.
Swimming pools to remain closed (May 18, 2020) – Restrictions apply to pools operated by Montgomery County Recreation, as well as apartment and condominium complex pools, and private swim clubs.
Governor Hogan Announces Caregiver Services Corps To Help Maryland's Seniors (May 18, 2020) – Seniors or their loved ones may request assistance if a friend or family member who typically provides care becomes temporarily unavailable. Volunteers can be deployed to seniors' homes to provide assistance, including with maintaining daily hygiene routines, preparing meals, picking up groceries or medications, or connecting virtually with health care providers. To be connected with the Caregiver Service Corps help center, call 2-1-1. The call center is available 7 days a week and can take calls in many languages.
Maryland Expands Testing Criteria To Include Those Who Are Asymptomatic; Appointment-Free Testing in Maryland Begins Thursday (May 19, 2020) - Drive-thru, appointment-free testing will be available beginning Thursday, May 21, at the Timonium Fairgrounds in Baltimore County and continue on Friday, May 22, at the Glen Burnie VEIP site in Anne Arundel County, as well as the Hyattsville VEIP station in Prince George's County. Testing will become available at the Clinton VEIP site next week. People who suspect that they may have been exposed to COVID-19, even if they are not yet symptomatic, can access a test at one of these sites without a prior doctor's order or a scheduled appointment. Testing will be provided at no out-of-pocket cost.
THURSDAY, MAY 14, 2020
Read the County Press Release Here, or below.
Montgomery County to Remain on Stay at Home Order Until COVID-19 Conditions Improve; County Executive to Hold News Conference Thursday
For Immediate Release: Wednesday, May 13, 2020
Montgomery County will join other large jurisdictions in Maryland in remaining on a stay at home status until local COVID-19 data dictates it is safe to move toward reopening. That decision followed Governor Larry Hogan's announcement today that some parts of the state could move into the first stage of recovery. County Executive Marc Elrich explained the statistics in Montgomery County have yet to show a 14-day downward trend in the number of cases. Also, the County has had nearly 400 COVID-19 related deaths. These numbers do not allow our area to move forward at this point in a way that Western Maryland or the Eastern Shore might be able to do.
County Executive Elrich said today, "Our situation is improving. We are scaling up our testing capabilities and will be able to test more people in more settings. We are also increasing contact tracing. These efforts will help make our community safer. But we do not meet the measures set out by federal and state guidelines. The Governor acknowledged this reality at his press conference when he pointed out that only a few jurisdictions, ours included, are still feeling the brunt of this pandemic. The state data shows that four jurisdictions, including Montgomery, account for almost 72% of the state's cases."
Governor Hogan's latitude in allowing local jurisdictions to make decisions based on data specific to each county is critical to ensuring the continued safety of Montgomery County residents. Mr. Elrich stated he will continue to confer with County Health Officer Dr. Travis Gayles to monitor the critical metrics so that reopening in Montgomery County will be deliberate and in the best interest of the residents. "I know this is very difficult for all of us. Our businesses are eager to reopen and our residents would love to be able to resume their usual activities, and we want to get there as quickly as possible while adhering to the essential public health guidelines."
County Executive Elrich and Dr. Gayles will hold a news conference on Thursday to discuss what criteria must be met before additional openings and other activities can be allowed in Montgomery County.
When: Thursday, May 14, 12 p.m.
Where: Outside the Montgomery County Executive Office Building, 101 Monroe Street, Rockville, MD
The news conference will be streamed live on the County's Facebook page.
FRIDAY, MAY 8, 2020
Please see below for a message from County Executive Marc Elrich:
Dear Friends,
As we head into this Mother's Day weekend, we do so with new guidance from the Governor as to what is acceptable as far as outdoor activities are concerned. While the Governor has said that people can now play tennis and golf, this doesn't mean that we should ease up on the physical distancing we have been practicing for nearly two months. While we want people to be physically active and get outside, we need to refrain from contact sports. Please only go out for essential travel and the limited approved outdoor activities. While the governor has approved activities such as boating, camping, fishing, horseback riding, hunting and driving in off-road vehicles, these can only be done with members of your household (For more information about these newly permitted activities, click on MD Outdoor Activities Information). Regardless, when you are around others, it is still necessary to wear a face covering. In the end, our ability to fully return to normal activity depends on our ability to control the virus.
Here, in Montgomery County, we are talking with our Public Health Officer, Dr. Travis Gayles to help provide guidance on what we can safely do within these evolving conditions. Large group activities, of more than 10 people, are still not safe, and we must remember to frequently wash our hands to avoid the spread of the virus.
The Governor also announced that the schools will remain closed for the remainder of the school year. But this does not mean that the learning stops. We know that our teachers and school staff continue to work hard and reach out to our students, and we're grateful for their dedication. During this teacher appreciation week, I'd like to thank all our hardworking teachers. Please click on the link below for my message.
Watch the County Executive's Message
Marc Elrich, County Executive
THURSDAY, MAY 7, 2020
Join the next District 18 Town Hall: "The COVID Crisis: Where & How You Can Help Our Community" this Friday, May 8th, from 11:30am-12:30pm. Information will be provided on food assistance efforts, mask making opportunities, virtual tutoring, diaper and formula drives, grocery card collections, virtual job training, and future volunteer opportunities. Click Here To Register & Submit Questions.
Despite Governor Hogan's announcement (May 6 Executive Order) that some outdoor activities may resume on May 7, all Montgomery County Recreation facilities will remain closed until further notice. All programs and rentals are cancelled. While the outdoor areas surrounding County Recreation centers remain open, the public is reminded that all playgrounds are closed.
The County Executive encourages residents to continue to wear face coverings when they go out in public, practice social distancing and continue to follow the Governor's stay-at-home order. For the latest COVID-19 updates, visit the County's COVID-19 website and follow Montgomery County on Facebook and Twitter.
The Town requests that residents wear masks to the Post Office. This is to protect your own health as well as the health of your neighbors, our post office employees, and other post office visitors.
TUESDAY, APRIL 28, 2020
Please heed the advice of the CDC and wear a face covering whenever going out in public - this includes visits to the Post Office.
You may notice more activity at Penn Place. The building (other than the Post Office) remains closed to the public, but Black Market re-opened for carryout/curbside pickup Friday, April 24th.
There is a new local public access channel - Corona Montgomery is channel 10 on Comcast and Verizon and connects community members to timely information about county and community services, programs and other news. The around-the-clock, online counterpart is at Coronamontgomery.info
Maryland Department of Labor launched a new new unemployment insurance application that allows all types of claims to be filed entirely online.
Montgomery County launched a new Family Violence Awareness and Prevention Campaign to support and inform County residents who are experiencing family violence. Details: https://buff.ly/2VAE7LT. Video: https://buff.ly/2Kr5HEQ.
THURSDAY, APRIL 23, 2020
Montgomery County's Public Health Emergency Grant (PHEG) program, designed for businesses with significant losses due to COVID-19, will stop accepting applications Saturday, April 25 at 5:00 PM. See other federal and state assistance resources:
THURSDAY, APRIL 16, 2020
The Garrett Park dog park remains open since the Town is following the same rules as Montgomery Parks. This is from the Montgomery Parks COVID19 webpage, FAQ section: Dog parks and skate parks remain open, but usage must be limited to less than 10 people at a time…keep a distance of at least six feet between you and other people at all times.
All passengers boarding Montgomery County Ride On buses are required to wear face coverings. Customers who do not comply will be advised of the requirement to wear a face covering and may not be allowed to board the vehicle.
Montgomery Parks will close Beach Drive (from Knowles Ave to Connecticut) from Friday at 9 a.m. to Sunday at 6 p.m. to automobile traffic and open it to walkers, runners, bikers and scooters.
The County seeks donations of personal protective equipment. Learn how to donate.
SATURDAY, APRIL 11, 2020
Beginning Monday, April 13, customers in Montgomery County are required to wear a face covering while shopping at grocery stores, pharmacies, farmers markets and big box retailers. A face covering can be a homemade cloth mask, a scarf or bandana or other means of snugly covering the mouth and nose. Read the news release.
See the County's COVID-19: Mental Health Resources webpage for several great resources like tips for adults tackling anxiety and tools for children. If you are in immediate need of talking to someone about your stress and anxiety, you can call the County's 24/7 Crisis Center at 240-777-4000. EveryMind also has a 24/7 hotline available at 301-738-2255.
Montgomery County approved the appropriation of $20 million in COVID-19 relief funding. The Montgomery County Public Health Emergency Grant program provides financial assistance to Montgomery County for-profit businesses (including sole proprietorships and independent contractors) and nonprofit organizations that have experienced significant financial loss caused directly or indirectly by a public health emergency. Local businesses may be eligible for grants of up to $75,000.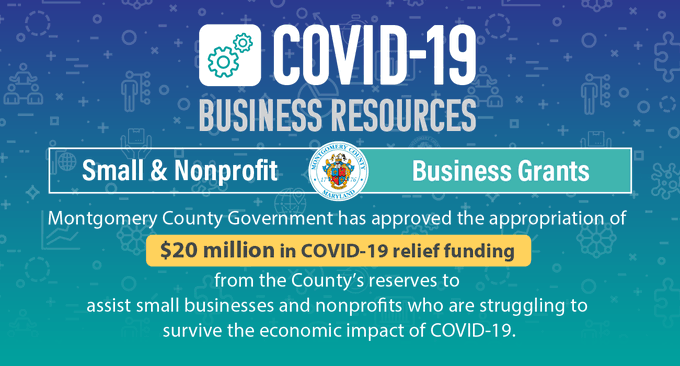 THURSDAY, APRIL 9, 2020
Penn Place will now be disinfected weekly. This is in addition to twice weekly regular cleaning, and the Town Maintenance Staff's at least daily cleaning of frequently touched surfaces.
Updated 4/9/20: The Montgomery County Council will introduce a new Board of Health regulation requiring employees and customers of essential businesses to wear face coverings when interacting with customers or coworkers. The regulation will be introduced and voted on at the Council's virtual meeting on Tuesday, April 14. Read more.
If you have to leave your house, Montgomery County Health Officer and Chief of Public Health Services Dr. Travis Gayles recommends you wear a mask in public places where social distancing is difficult to maintain (such as grocery stores) to prevent the spread of COVID-19. (Video).
Wells Park and Cambria Park are closed:
TUESDAY, APRIL 7, 2020
Black Market is temporarily closed as of Sunday evening, April 5. For the time being, Penn Place is now closed to the public other than the Post Office. The Penn Place front door and the bathrooms next to Black Market are locked.
When possible, please avoid touching surfaces that others are frequently touching – this includes the large tree rounds/stumps that are so enticing for kids to climb on.
From the Montgomery County COVID-19 Newsletter, April 6, 2020: Montgomery County Health Officer Dr. Travis Gayles is urging residents to follow the guidelines released by the Centers for Disease Control and Prevention (CDC) that recommend the routine use of homemade cloth masks in public settings. The CDC recommends wearing masks where social distancing is difficult to maintain. Masks are not advised for children under two years of age or for individuals with difficulty breathing. "We don't currently know how effective homemade masks will be," said Dr. Gayles. "Wearing a cloth mask is not a substitute for limiting trips outside of your home, continuing to maintain physical distancing or frequently washing your hands. Given the nationwide shortages, surgical and N95 masks are needed for health care providers and these mask types should be reserved for our frontline clinical professionals." CDC guidance on cloth face coverings (instructions for assembling, how to properly wear one, etc.)
Sign up here to receive weekly CDC emails about COVID-19.
FRIDAY, APRIL 3, 2020
Governor Hogan issued a stay at home Order on Monday, March 30. In the Order, one example of an (allowable) essential activity is "engaging in outdoor exercise activities, such as walking, hiking, running, or biking, but only in compliance with paragraph III below and applicable social distancing guidance published by the U.S.." Centers for Disease Control and Prevention ("CDC") and the Maryland Department of Health ("MDH")." Paragraph III states that gatherings larger than 10 persons are prohibited.
Montgomery Parks Update 4/1/20: *Do not gather in groups of more than 10 people *Stay six feet away from others while in parks and on trails *Do not use playgrounds or any other equipment in parks *Do not play group or contact sports including basketball, soccer, and baseball *Do not touch surfaces such as park benches, water fountains and athletic equipment such as fitness stations *Montgomery Parks has closed tennis and pickleball courts
The Post Office now has a paper towel dispenser and trash can near the door. Please be respectful of your fellow residents and Town staff by making sure the paper towel is disposed of in a trash can and not on the ground. Town staff are also working with a vendor to possibly install an automatic ADA door.
Town staff are awaiting a quote from a company to disinfect Penn Place (including the Post Office) and Town Hall.
MONDAY, MARCH 30, 2020
Today Governor Hogan issued an Executive Order with a stay-at-home directive effective 8:00 PM tonight. No Maryland resident should leave home unless it's for an essential job or reason (obtain food, medicine, etc.). Only essential businesses will remain open, and those businesses must make every effort to scale down their operations to reduce staff and limit interactions. View the press briefing video here.
For the past few weeks, Town staff have made efforts to limit our exposure. As we follow the Governor's directive and to limit the number of staff working, Town operations will focus on essential functions and those that can be addressed remotely. Thank you for your patience during this time. As State and County leadership have expressed, this is serious, it will get worse before it gets better, and we'll get through it.
There is a new website and app that guides Americans through a series of questions about their health and exposure to determine if they should seek care for COVID-19 symptoms. This tool was developed by Apple, the CDC, The White House, and FEMA. Read more in the CDC's Statement.

Montgomery Parks 3/28/20 Update: [Note: it is not clear if this guidance will change based on the Governor's 3/30/20 Executive Order]. The Maryland-National Capital Park and Planning Commission urges our residents and visitors to do their part to stop the spread of COVID-19 in our communities. If you go to a park or trail to exercise, use extreme caution. Maintain at least 6 feet of distance between yourself and others when outside. Do not participate in any team and contact sports, such as basketball, football, softball and soccer. Cookouts are also not permitted in our parks, until further notice. Avoid touching surfaces including playground equipment, benches, and other sports equipment that are handled by others. We discourage gathering in our parks and remind patrons that it is illegal to gather in groups of 10 or more. Please make use of our more than 200 miles of trails throughout the county. Use the Montgomery Parks Trailheads with Parking Map to find a trail near you.
FRIDAY, MARCH 27, 2020
Emergency Notification from Montgomery Parks 3/26/20: While the outdoor areas surrounding County recreation centers remain open, the public is reminded that all playgrounds are closed. Residents should not participate in team or contact sports or activities involving physical contact or sharing of equipment.
Maryland Receives Major Disaster Declaration from Federal Administration for COVID19. The State, local governments, and some non-profits are now eligible for reimbursement of emergency protective measures taken.
See Washington Gas, Pepco, and WSSC websites for information on their services relevant to COVID19. During this time, they're suspending service disconnections/shutoffs. If you're having trouble paying your Pepco or WSSC bill, see their websites for guidance. WSSC has also warned of scams.
Montgomery County may be in need of the following items on an emergency basis: gloves, wipes, N95 masks, PPE. If you have inventory in stock, please notify procure@montgomerycountymd.gov
WEDNESDAY, MARCH 25, 2020
MONDAY, MARCH 23, 2020
FRIDAY, MARCH 20, 2020
Here are a couple key items we wanted to make sure you knew about:
THURSDAY, MARCH 19, 2020
WEDNESDAY, MARCH 18, 2020
Dear Residents,
Everything related to COVID-19 is changing daily. Like many of you, Town staff are figuring out how to work remotely (when possible) or with reduced hours to limit our exposure and care for family members. The best sources of information during this time are reputable sites like the CDC, the State of Maryland, and Montgomery County. You can sign up to receive Montgomery County Press Releases here. Governor Hogan's Twitter Account has up to date information on what's happening at the state level. The Town is largely taking our cues from the State and County, as they have access to more information, and the appropriate expertise and resources to make sound decisions relevant to health and safety (i.e. emergency management and public health experts, etc.).
Thanks for your patience and flexibility during this time.
TUESDAY, MARCH 17, 2020
The Town is extremely concerned about the well being of all of our residents. Penn Place is thoroughly wiped down with sanitizing materials at least daily. Town Hall is closed to all reservations, which will be able to be rescheduled or refunded once we get an "all clear" from Governor Hogan via the CDC and WHO.
The Town Office is closed to the public. Please email (managerandrea@garrettparkmd.gov) or (adminelizabeth@garrettparkmd.gov) or call us: 301-933-7488. We will respond as soon as we are able. Several residents in town have called or emailed with concern about how to help our senior citizens. We are trying to figure out the safest/healthiest ways we can suggest. Please do your part by wearing gloves, masks, safety glasses as appropriate, wiping surfaces with antibacterial solutions, and frequent hand washing.
THURSDAY, MARCH 12, 2020
Dear Residents:
On Thursday, March 12th, the State and County announced actions to protect public health and limit the spread of Coronavirus in Maryland. Many activities will cease over the period March 16-March 27, and MCPS will be closed. Consistent with these recommendations, Mayor Kacky and Town Staff have taken the following actions, effective March 16 and at least through March 27. This information will be updated as the situation changes.